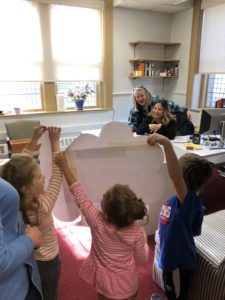 As we enter the holiday season, we are thankful for God's many blessings. Our classes created Thanksgiving art projects for their families as a representation of what they are thankful for. Several classes wrote thankful note cards and delivered them to the church staff to express an appreciation of all that they do for the church.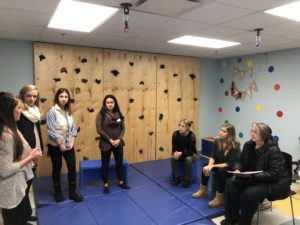 The teaching staff met with specialists at North Shore Pediatric Therapy to develop deeper understanding about speech and language development. We were also able to get a better understanding of their services for occupational and behavioral therapy in the event parents ask us. Since the summer, I continue to meet with the curriculum directors from Lake Forest and Lake Bluff school districts to communicate on what we are doing in our program to help better prepare our students for their next transition into Kindergarten. I am delighted to continue to receive tremendous feedback on how the First Presbyterian program prepares our students.
Below, we have the Marwede family, a multigenerational alumni family, who wrote a testimonial to their families' wonderful experience here at First Presbyterian Preschool, which began in 1967.
Blessed to be a "First" Family
The Marwede family began their multigenerational history at the First Presbyterian Preschool in 1967.  Andy Marwede, my husband Mark's older brother, enrolled and Mrs. Kautz was the director at the time. Mark soon followed in 1968.  They both have very fond memories of their preschool years, especially the time spent on the playground in the small "haybarns" that were set up on the perimeter of the yard.  They shoveled hay, pretended to be farmers and played in the haystacks. They both loved the day that their mom, Carol Marwede, visited the school and gave a presentation on poisons.  She was a local nurse and came dressed in her uniform.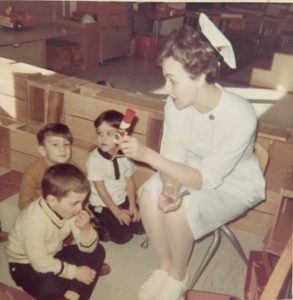 Mark and I met in college, married in 1990 and moved back to the area in 1995 with small children.  Soon we were looking at preschools for our oldest child, John. First Presbyterian quickly became our first choice based on the teaching philosophy, warm atmosphere and experienced staff.  John enrolled in 1997 and was soon joined by his younger siblings Caroline and Katherine. I asked them recently to share some of their memories, and they all said the same thing. They remember loving their teachers, who were really nice and made school a fun place to be.  They also made great friendships that continued through elementary school, high school, college and beyond. The wonderful playground was also mentioned ☺.
I was so thankful for the fact that First Presbyterian Preschool made my children love learning and going to school.  They were more than ready for kindergarten, both academically and socially. We made many lifelong friends with First Presbyterian parents as well, and have enjoyed watching each other's children grow up and become happy, successful young adults.  We are all now consoling and supporting each other as we transition to being empty nesters
John (24) is now an account manager at Humana in Louisville, Caroline (23) works as a Sales Analyst in business development at Kraft Heinz in Chicago, Katherine (20) is a junior at DePauw University in Greencastle, IN and Ben (17) is a senior at Lake Forest High School and a proud member of the Scouts Varsity Football team (along with Rylie Mills ☺).  It is quite possible that a third generation of Marwedes will continue our First Presbyterian Preschool legacy in the future!